Lenses
LENS STYLES
HIGH DEFINITION PROGRESSIVE LENSES
From near to far and everywhere in between, high definition progressive lenses designed to provide crisper, clearer viewing ranges and more natural vision transitions than any other traditional progressive lens.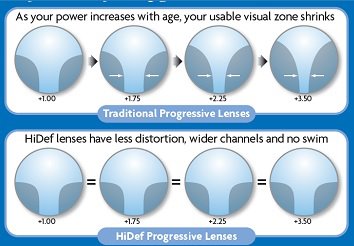 Eyezen Single Vision Lenses
If you are too young for a progressive, but need a little extra boost in your vision to help with computer work, the Eyezen lens might be perfect for you!
LENS MATERIALS
PHOENIX
The lightest and strongest lens material available.
HI-INDEX LENSES
The thinnest lenses available.
LENS TREATMENTS
ANTI-REFLECTIVE COATING
RECHARGE ANTI-REFLECTIVE COATING
Smart phones, tablets, TVs and even energy efficient light bulbs emit high-energy blue light waves that, when stared at day and night, strain our eyes and even interfere with our ability to sleep at night.  The blue light blocking properties of Recharge lenses alleviate eyestrain, and even help maintain your melatonin levels, so you can fall asleep at night.
TRANSITIONS LENSES
Darken automatically when exposed to UV light to adjust to light conditions.

TRANSITIONS XTRActive
For more light sensitive patients, the Transitions XTRActive lenses darken automatically when exposed to visible light.

BLU TECH LENSES
Offers wearers protection from sources of harmful high-energy blue light, such as harsh fluorescent lighting, computer screen, and personal electronics.